Jaffa,55 Yehuda Ha'Yamit st.
Gilbert & George House is an interior decoration project inspired by the British Pop artists Gilbert Passmore and George Proesch. The couple is known, among other things, for their big scale photographs, titled 'THE PICTURE'. Those works deal with the complex relations between the individual – the frame – and space, while examining interrelations between documenting reality and creating fantasy. Decomposing their works and identifying the different components enabled the creation of a formally, graphically and functionally empowered explicit space. The monochromatic background and the extrovert figures in colorful suits collaborate and are separated at the same time by the black grid.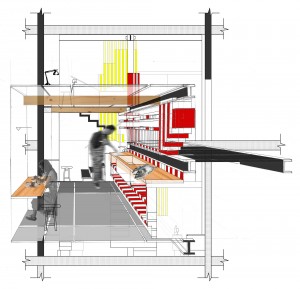 The vertical loft is designed for a building in 55 Yehuda Ha'Yamit st., to replace two flats of 22 square meters, built one on top of the other. In the process the flats were connected by removing the floor/ceiling to become one unit of seven meters high. Discussion of issues such as breaking social conventions, and the complex relations between 'high' and 'low' culture, led me to come up with a program dedicated to local fishermen. I designed an intimate environment which evolves from the physical scale of the project and from perceiving the individual by way of his spiritual, emotional and functional needs, while not hesitating to bring into the design elements take from what is considered 'high' culture.